The Loan
We All Own
Building on 30 Years
of Multifamily Success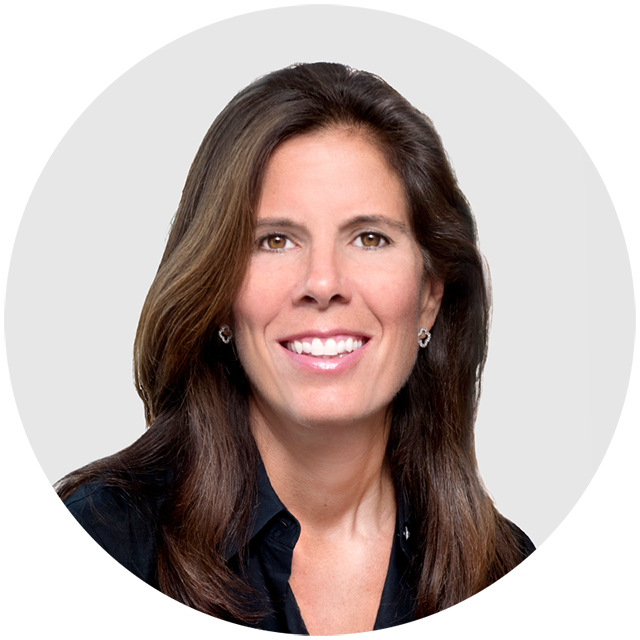 For over 30 years, Fannie Mae has been a leader in the multifamily market. Through challenging and disruptive real estate cycles, we've remained true to our mission to facilitate equitable and sustainable access to homeownership and quality affordable rental housing across the United States. We're continuing to embrace change. Our focus on innovation and our commitment to providing the financing solutions our customers need and grow as we explore new ways to meet the needs of the market, serve the needs of renters, and make it easier to do business with us.
Nothing we do is possible without our lender partners. They bring in quality deals and make smart credit decisions, helping us build a strong book of business. They test new technology and ways of working that help us build faster, smarter systems. They're committed to creating and preserving housing that produces positive outcomes for renters. They're identifying opportunities to create a more diverse and inclusive industry. And every day, they prove that we can achieve more together.
With the Delegated Underwriting and Servicing (DUS®) model as the foundation of our business, we'll continue to withstand difficult changes and lead positive ones. Delegation, risk-sharing, and life-of-loan servicing are the pillars that support our platform and allow us to serve every market, every day. We're dedicated to the future of housing and are grateful for the people, products, and processes that will help us shape it.
We've created this overview of our business and how we execute it to help explain the DUS model and highlight our work across the spectrum of multifamily housing. Together, these pages tell the story of how we're serving renters and executing on our mission. I think you'll agree that it's a story worth telling.

Michele Evans
Executive Vice President,
Head of Multifamily, Fannie Mae
Congress created Fannie Mae in 1938 to provide a reliable, steady source of funding for housing. Our role is to provide liquidity and stability to the mortgage market. We do not lend directly to consumers. Instead, we operate in the secondary mortgage market, in two business lines:
Single-Family (1 - 4 residential units)
Multifamily (5+ residential units)
We facilitate the flow of global capital into the U.S. mortgage market by assuming and managing credit risk. We securitize Multifamily mortgage loans delivered to us by lenders into Fannie Mae MBS in lender swap transactions. Nearly all of our multifamily acquisitions are through MBS issuances.
Conservatorship
Fannie Mae has operated under the conservatorship of our safety and soundness regulator, the Federal Housing Finance Agency (FHFA), since September 6, 2008. In September 2008, Treasury made a commitment under a senior preferred stock purchase agreement to provide funding to Fannie Mae under certain circumstances.
Please refer to our SEC filings for information about Fannie Mae and the operation of the company during conservatorship.
As one of the largest guarantors of mortgages in the United States, we play a major role in setting the standards for the housing finance market. We drive market standards through our underwriting guides, disclosure and asset management tools, data standards, and constant engagement with our lender partners.
Multifamily
by the numbers*
*Numbers reflect YE 2021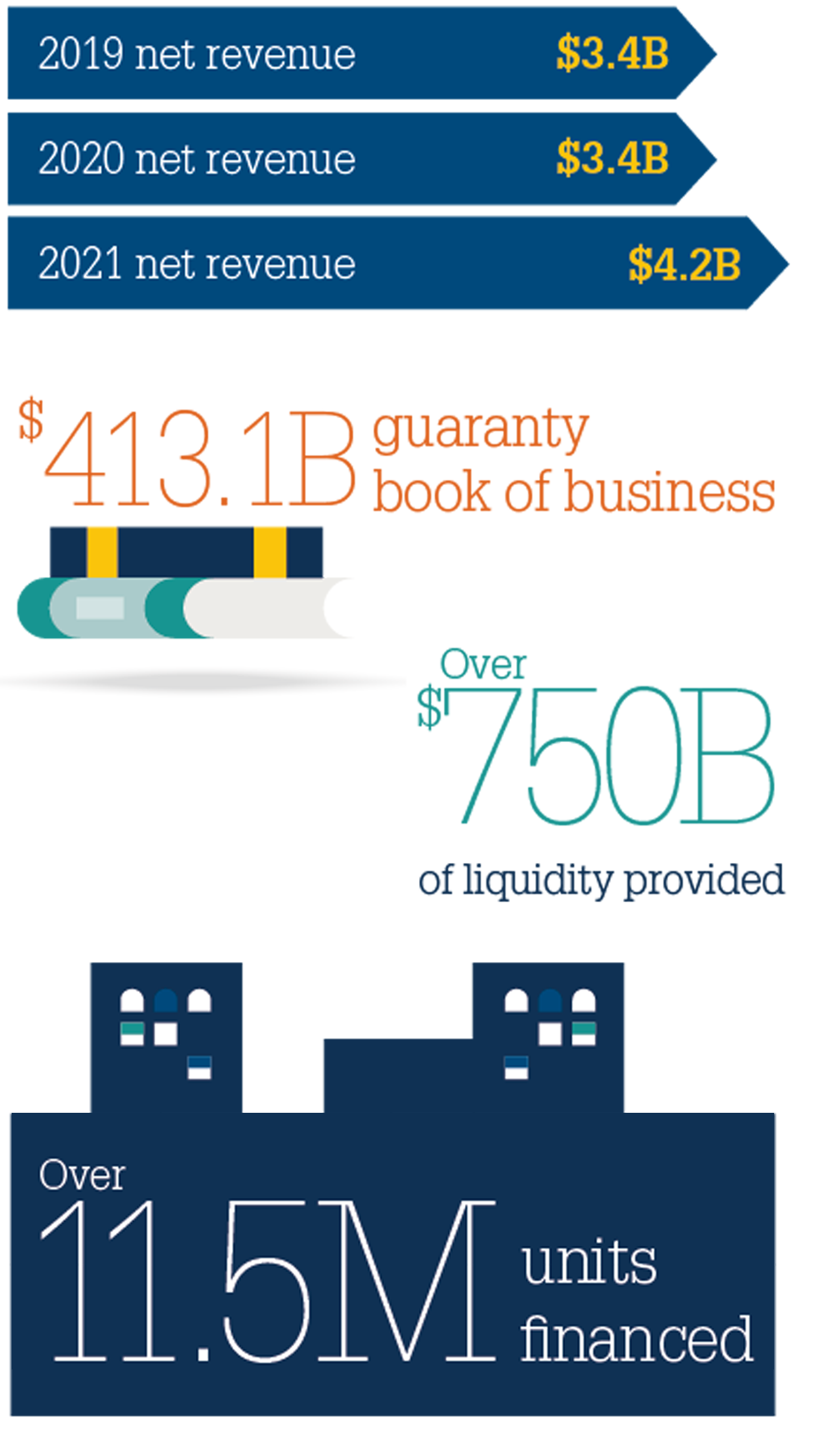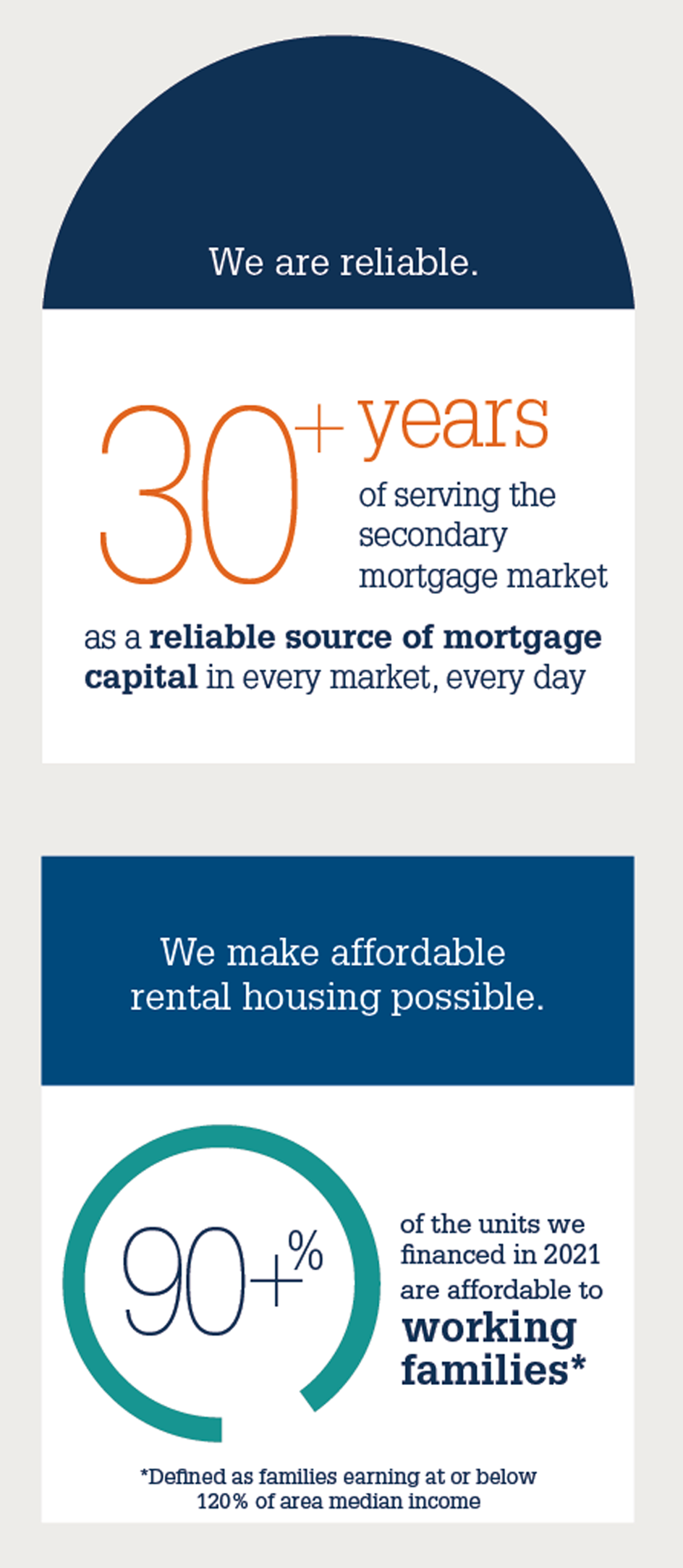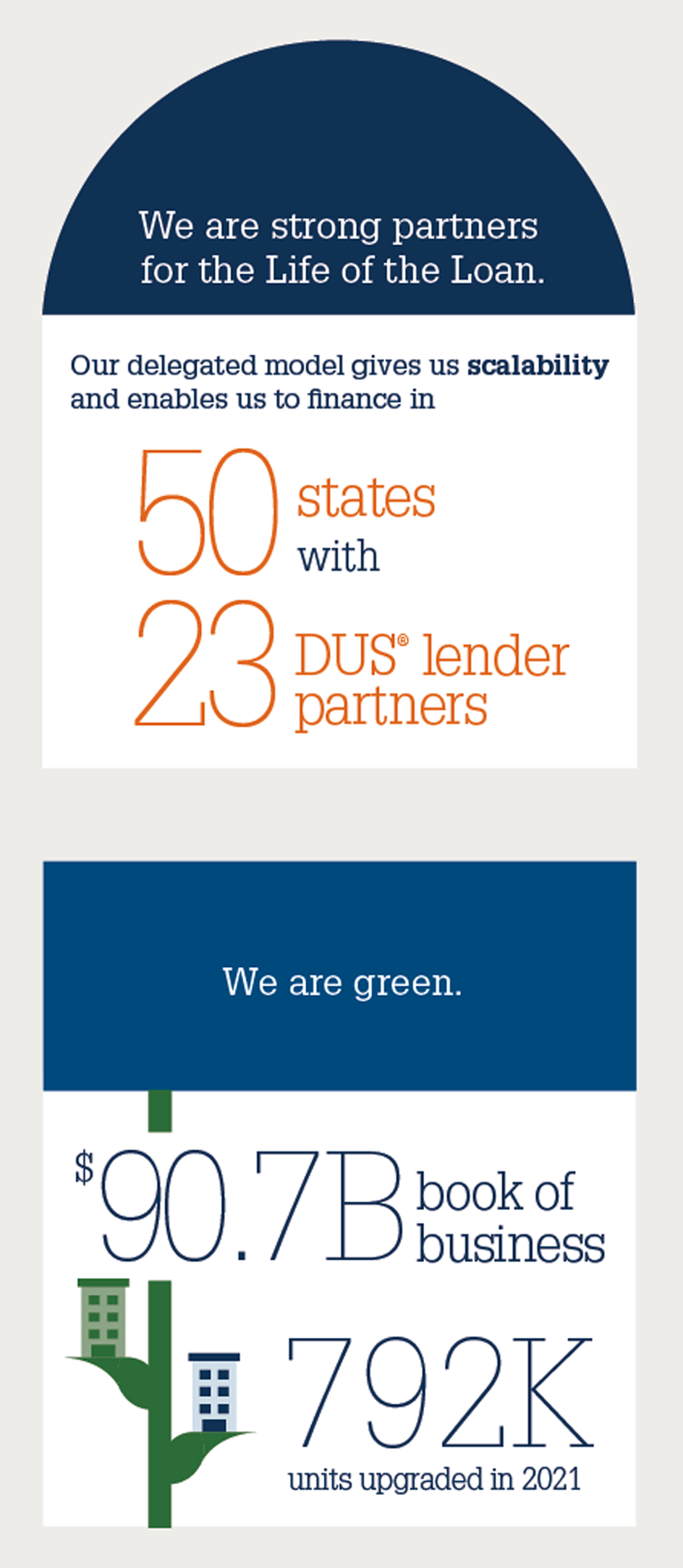 For over 30 years, Fannie Mae Multifamily has been a reliable source of mortgage capital for the secondary market. We provide liquidity, stability, and affordability in every market, every day, and we do so while maintaining our rigorous credit standards and expanding access to affordable housing. Our Delegated Underwriting and Servicing (DUS®) model is the premier financing platform in the multifamily market.
DUS is a unique system of collaboration. In certain cases, we authorize our 24 DUS lenders to underwrite, close, and deliver loans on our behalf. In exchange, they share the risk of loss on those loans. In turn, this offers borrowers certainty of execution, faster decisions, quicker closings, and competitive pricing. It is a complete partnership – we share the risk, and we share the reward. It's also why we describe it as The Loan We All Own® — because it aligns and empowers each of us, every step of the way.
Fast. Flexible. Certain.
We serve a wide spectrum of the market, including conventional, rent-restricted, cooperatives, seniors housing, student housing, and manufactured housing communities.
We finance all loan sizes, from a $1 million single-asset MBS to a $1 billion+ structured transaction.
DUS leverages private capital, aligns interests through risk sharing, and supports life-of-loan-servicing.
Countercyclical stability
We consistently provide access to credit throughout economic cycles. When other sources of capital retreat, Fannie Mae is still there to provide funding and liquidity.
Standard-bearer
Our underwriting and servicing guidelines and loan documents set the industry standards for multifamily underwriting and servicing best practices, promoting standardization and transparency and facilitating reliable securities disclosures.
Delegation and scalability
Our unique delegated model means we can scale our business as market conditions change, because we delegate underwriting and servicing to our DUS lenders.
Life of loan servicing
Life-of-loan servicing means no other master or special servicer and seamless post-closing activities. This life of loan relationship also makes second liens, supplementals, and refis quick and efficient.
The DUS Network
We maintain strong relationships with our 24 DUS Lenders, who all exhibit:
Financial strength.
Extensive multifamily underwriting and servicing experience.
Strong portfolio performance.
Creation of quality branded product.
Risk-sharing
Thanks to our unique risk-sharing model, the interests of borrowers, lenders, and Fannie Mae are aligned throughout the life of the loan. We believe this alignment of interests improves the performance of all parties and optimizes outcomes.
Single-security MBS
Our DUS MBS, backed by a single asset, transforms a mortgage loan into a more liquid asset, which increases available funds in the financial system. Our securities offer strong credit ratings as Fannie Mae guarantees timely payment of both principal and interest.