The lack of affordable single-family homes and apartments is a difficult reality for residents across the country, from California to Florida and cities in-between. We're reimagining housing by spotlighting innovative ways to boost the supply of affordable housing for low- and middle-income families.
New Ways to Build
By challenging conventional thinking in terms of design and materials, developers can build more homes more efficiently. Auburn University's Rural Studio has pioneered "the $20,000 home," a collection of one- and two-bedroom home designs that could make affordable housing a reality for more low-income Americans. Rusty Smith, associate director at Rural Studio, described the 20K Home initiative as "a scalable, sustainable, agile, and resilient delivery process for beautiful, well-designed, high-performance affordable homes titled as real property, while supporting an industry of home building in underserved rural communities nationwide."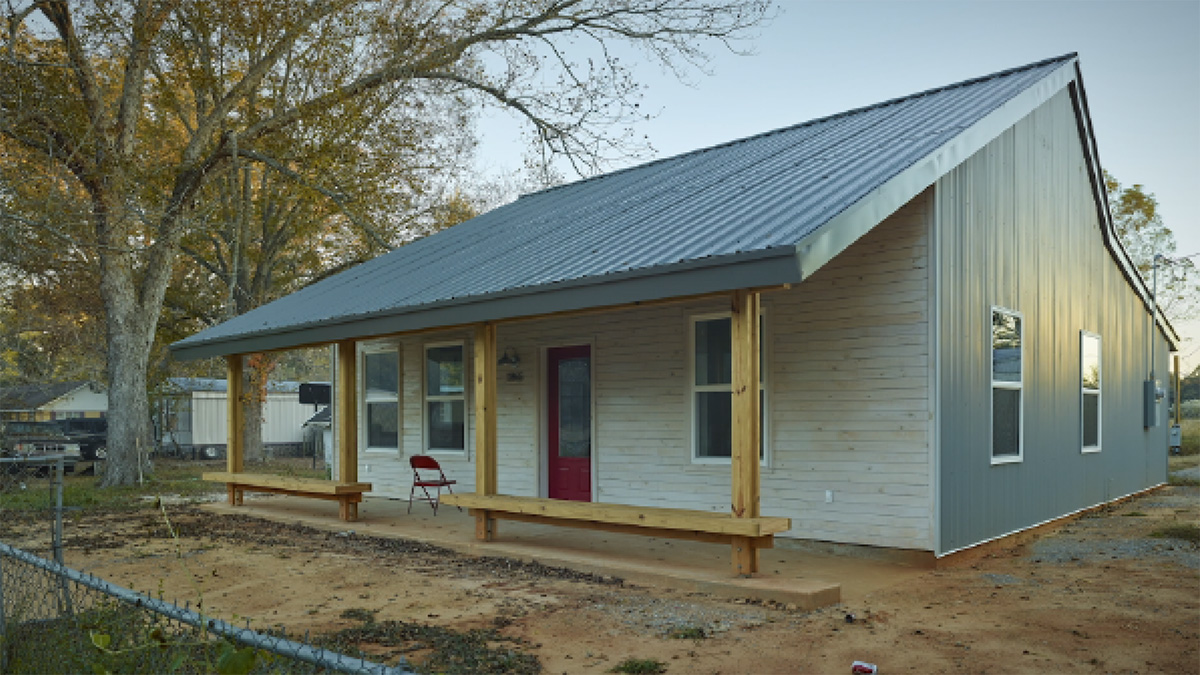 Currently, most homes are built for "nuclear" families—two parents and kids—but only 20% of households actually fit that definition.1 More than 80% of the nation's apartments and houses are built with two, three, or four bedrooms.2 Solo renters, empty-nesters, and multi-generational families end up paying for more space than they need. If developers design housing for fewer occupants, there could be a better match between supply and demand.
The Future of Factory-Built Housing
It's time to forget the old perceptions of factory-built homes. Today's innovative manufactured and modular housing features the traditional home aesthetic at a greatly reduced price. Manufactured housing is 35%–47% less expensive than traditional housing3, meets federal building standards, and blends in seamlessly with site-built homes. Modular housing can be built in half the time, cutting construction costs and the amount of waste produced.
Innovation is what drives California-based Factory OS. The company's factory sits on the historic Mare Island Naval Shipyard, where World War II workers helped rebuild the Pacific Fleet after the attack on Pearl Harbor. Today, Factory OS workers are responding to a new crisis. Rick Holliday, CEO of Factory OS says, "This area has good jobs, but we haven't built the housing to go with these jobs. At Factory OS, we are achieving savings and scale by building these homes in a factory on an assembly line. We are reducing construction and labor inefficiencies and building higher quality homes in a fraction of the time."
Jonathan Lawless, vice president of product development and affordable housing at Fannie Mae, said, "You don't often see $100,000, $150,000, $200,000 homes because it's hard to build at that price point. But manufactured and modular housing really address that market need. Factories could be pumping out homes with consistency and at a high quality."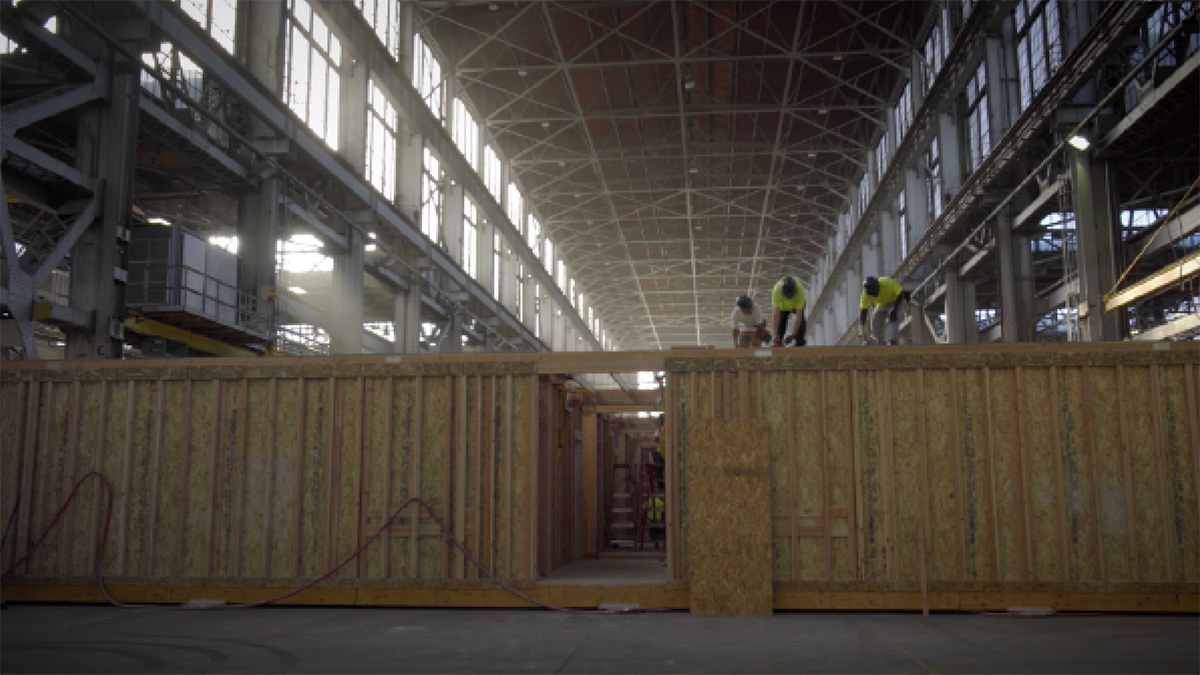 Unlocking Non-Traditional Land Sources
Building new housing requires land, which is tough to come by in major metropolitan areas. Cities are looking at new ways to take advantage of space on existing properties—like backyards. Los Angeles Mayor Eric Garcetti used a grant from Bloomberg Philanthropies to launch an Innovation Team with a mission to find creative solutions to low housing supply5. Their answer? Accessory Dwelling Units, or ADUs. ADUs, also known as "granny flats" or "carriage houses," are small homes built on the same lot as a main home. These units add affordable supply, and, as rental properties, can generate income for homeowners.
Fannie Mae's Sustainable Communities Innovation Challenge is a $10 million initiative to find promising solutions that address the nation's shortage of affordable housing through partnerships in sectors adjacent to housing. The West Denver Renaissance Collaborative, an Innovation Challenge awardee, is making great strides helping long-term homeowners remain part of their communities and benefit from Denver's recent economic growth through the development of ADUs.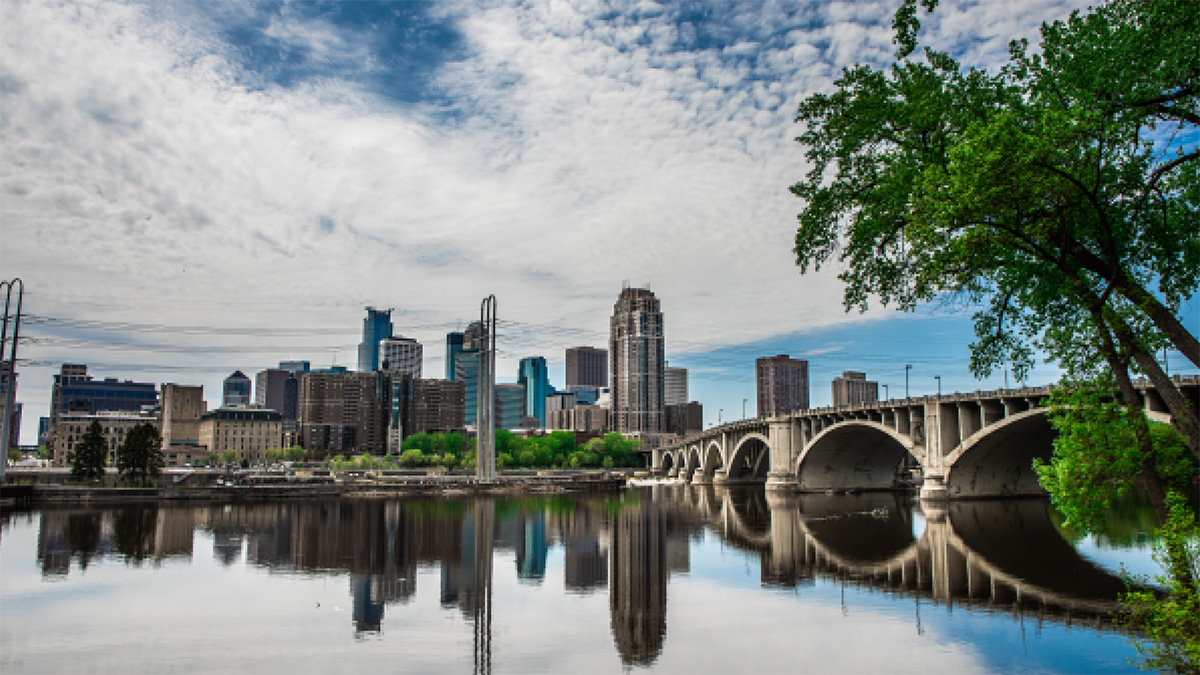 Policy Updates
Elected leaders are passing legislation to increase access to affordable housing. Major cities, like Los Angeles and Atlanta, are expanding inclusionary zoning policies, which require developers to designate a portion of units in new construction as affordable for low- to moderate-income households. Other cities like Minneapolis have taken a more comprehensive approach. In 2018, Minneapolis Mayor Jacob Frey and the Minneapolis City Council adopted a broad housing plan, which included sweeping changes in zoning laws to create more multifamily development across the city.
If fully implemented, this multi-prong approach would be the first of its kind for a major U.S. city. As Frey explained, "Single-family zoning has, for such a long time, been that sacred cow of urban planning. And it's a cow we don't need anymore. Zoning needs to be adapted to the realities that we're dealing with today."
Another approach is for cities to reduce residential parking requirements for new construction. Tim Piasky, CEO of the Building Industry Association of Southern California, Los Angeles/Ventura Chapter, explained, "Amenities like parking can drive up the costs which in turn decreases the number of units that can be produced."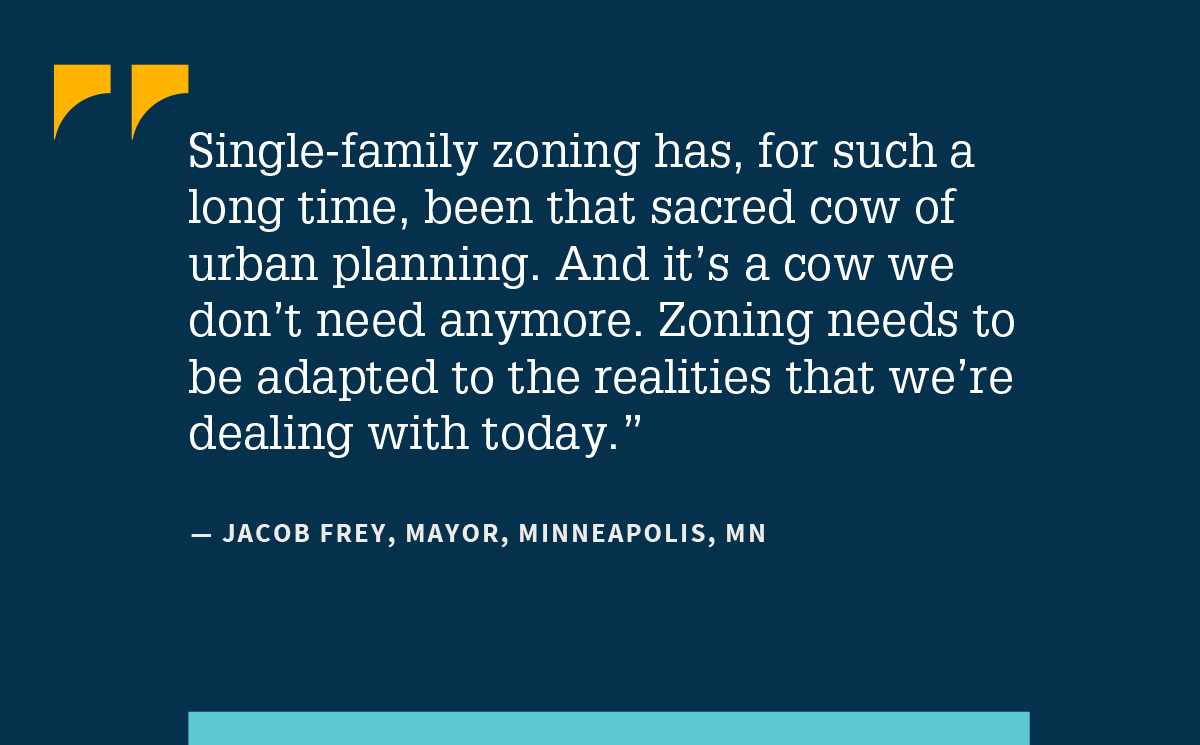 For most households, the location of their home isn't just a preference; it's a must-have feature. Some legislatures are aligning transit plans with affordable housing development because proximity to public transportation can help increase access to employment opportunities.
In addition, legislative measures to allow more "tiny homes" could further increase the supply of moderately priced homes. The tiny homes trend is so new that these homes aren't even classified as housing in most jurisdictions. But an update of housing laws could make tiny homes an affordable alternative for empty-nesters and others who don't need much space.
"Going Green" is Good Business
Green housing doesn't just benefit the environment—research shows these buildings have lower utility costs and higher tenant satisfaction. Energy-efficient developments use 12% less energy in common areas and 14% less energy in residential units.4
Fannie Mae spurs multifamily property development by issuing green bonds. These bonds are specifically earmarked for energy-efficient projects.
Bob Simpson, vice president of affordable and green housing at Fannie Mae explained, "Our Green Financing Program provides incentives for owners to make property improvements that save at least 30% in energy and water expenses in their apartment buildings. These property improvements are impactful because they reduce the carbon footprint and extend the useful life of the building, reduce operating expenses for the owner, and lower monthly utility bills for the residents. We're focused on the triple bottom line: it's good for the environment, good for the property owner, and good for the person who lives there."
Homeowners may be able to afford a down payment and mortgage, but other costs—like utilities—can put a major strain on monthly budgets. The city of Portland, Oregon has rolled out its mandatory Home Energy Score™ system. These energy-efficiency scores allow Portland homebuyers to better understand the full cost of homeownership and help them make more informed and cost-effective decisions.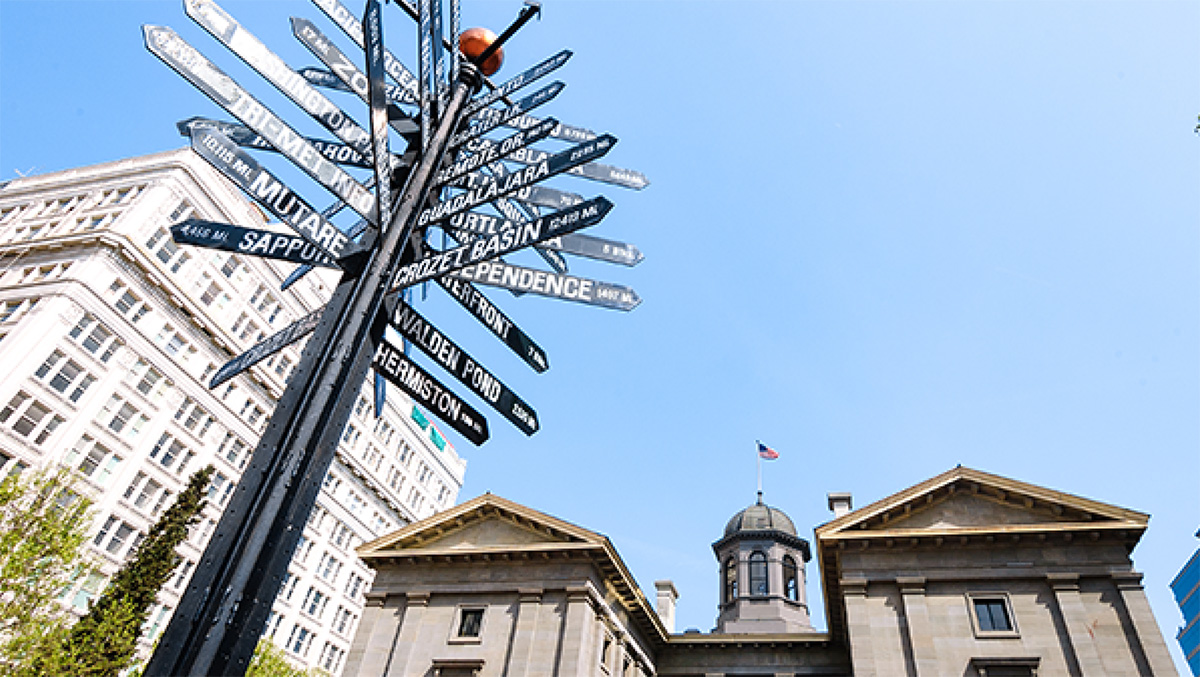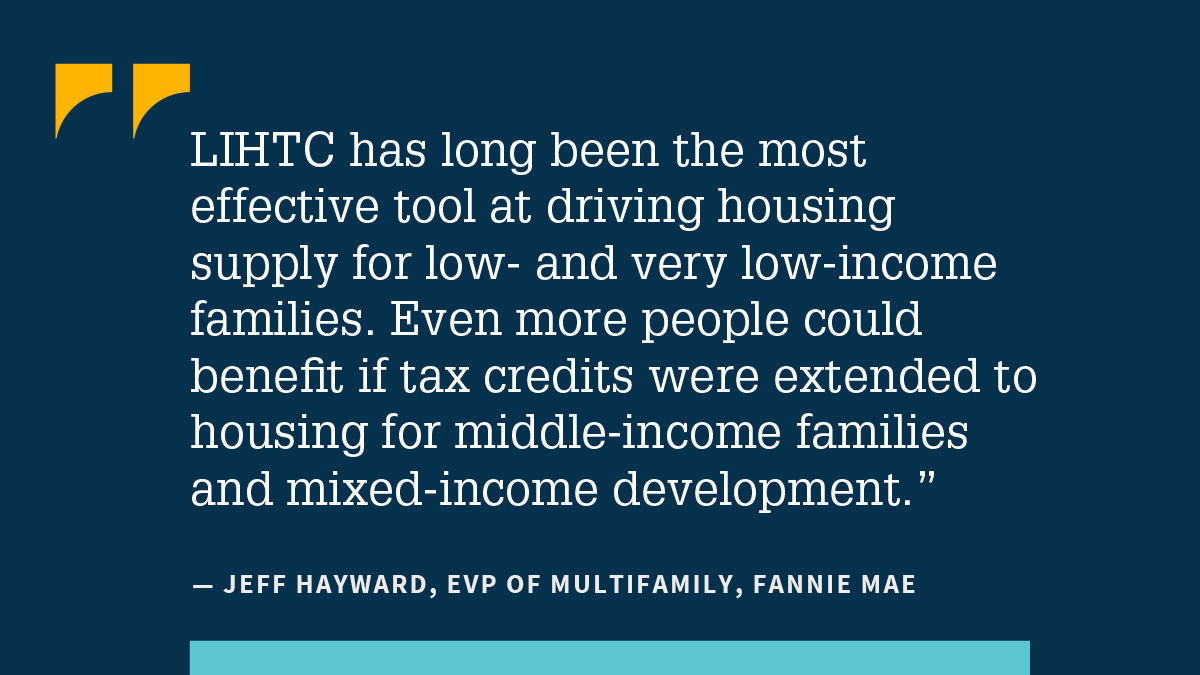 Providing Housing Tax Credits
The Low-Income Housing Tax Credit (LIHTC) cuts income tax liability for those who make a long-term investment in affordable multifamily rental properties. Jeff Hayward, executive vice president of Multifamily at Fannie Mae, emphasized that LIHTC "has long been the most effective tool at driving housing supply for low- and very low-income families. Even more people could benefit if tax credits were extended to housing for middle-income families and mixed-income development."
With the LIHTC program, state agencies competitively award housing credits to developers. Developers then sell the credits to private investors and use the capital for construction and preservation of affordable housing.6 This liquidity allows developers to borrow less money and charge lower rents to low-income tenants.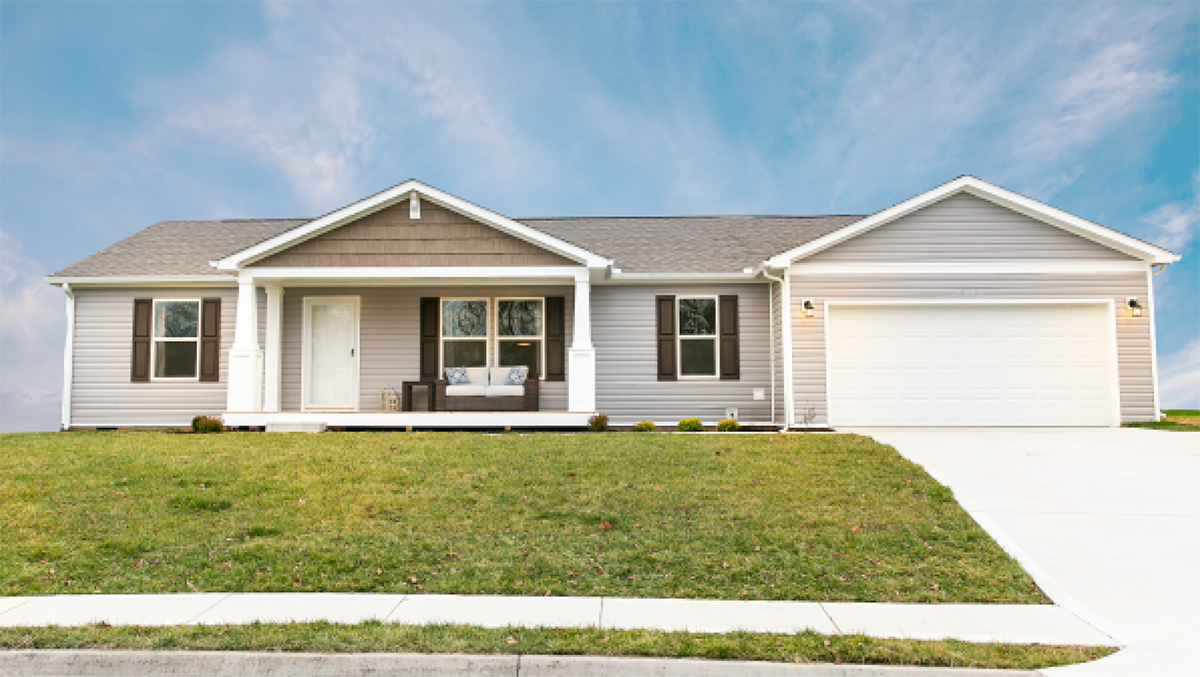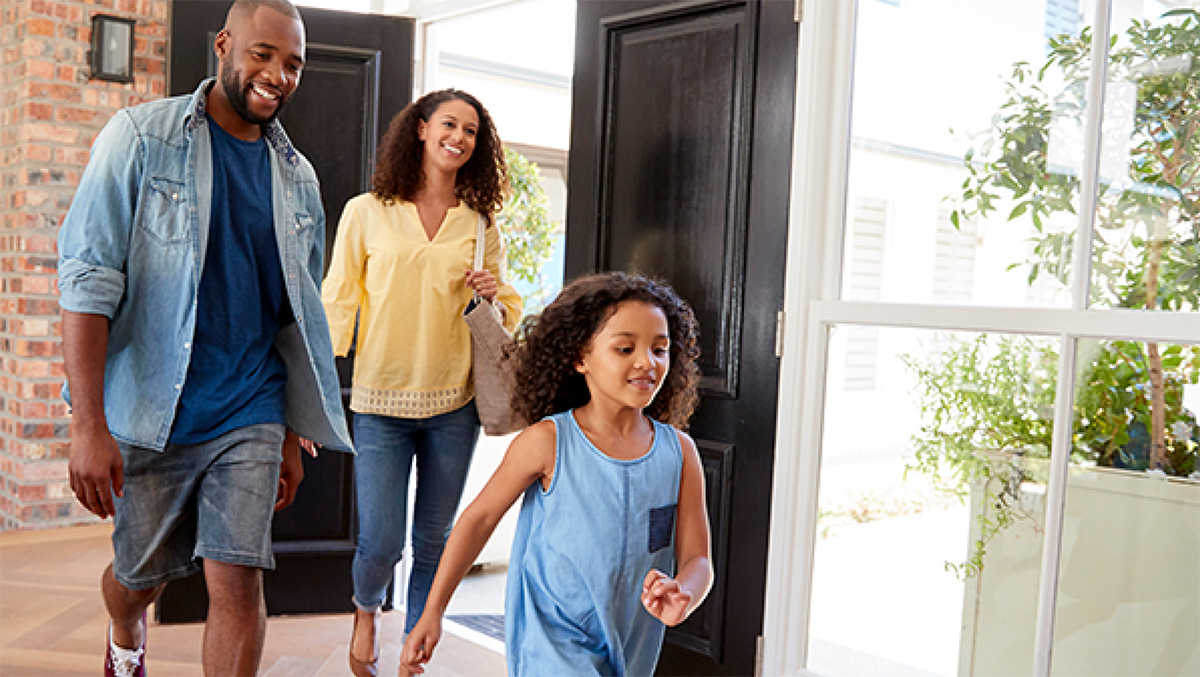 Investing in Workforce Housing
Workforce housing is categorized as homes or multifamily rental properties that are an easy commute to employment opportunities and priced for families with incomes up to 120% of the area median income. This type of housing allows vital members of our community—like teachers, police officers, and nurses—to live in the areas they serve. Comunidad Realty Partners owns and manages more than 5,000 workforce housing units across the Sunbelt markets, primarily in Hispanic communities.
Comunidad invests in its residents through educational programs such as kids' afterschool activities, health and wellness events, and job skills training. Antonio Marquez, managing partner of Comunidad, says investing in these amenities has paid off. "We know that when we achieve deep levels of social impact, residents are more likely to have stable, well-paying jobs and can reduce household costs," Marquez stated. "Building community isn't just important for improving residents' lives, it's also good for business. We've actually demonstrated that our turnover rates are lower, and our retention is higher because of services like these."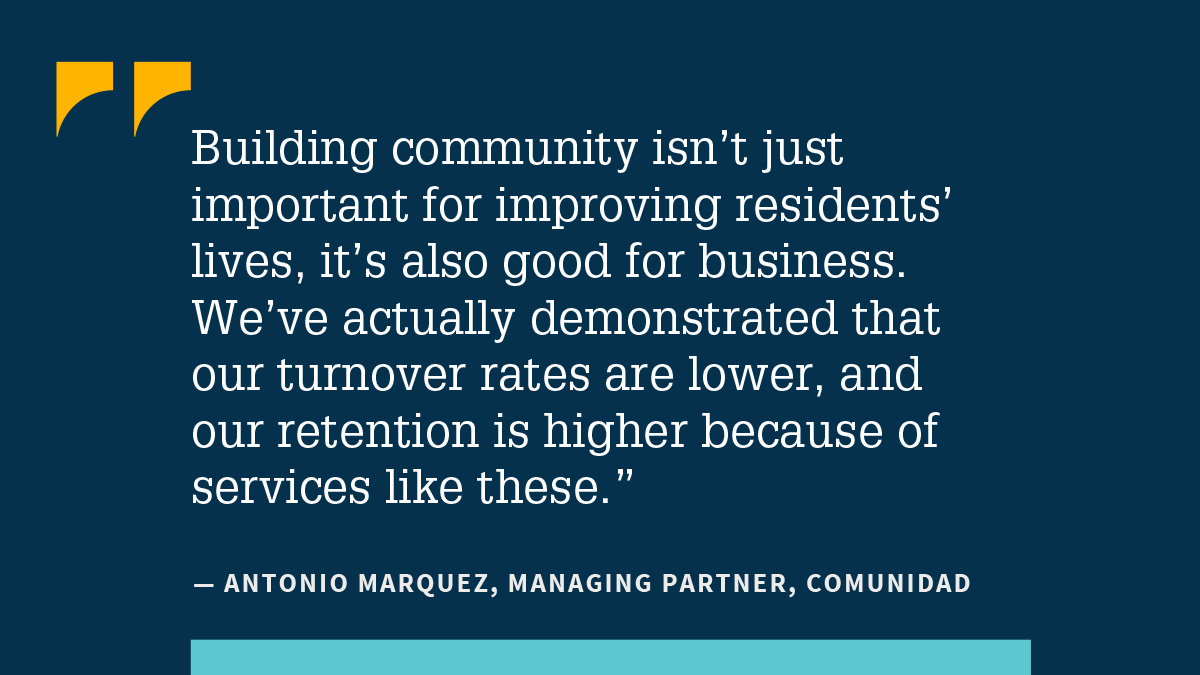 Sources:
1 "2017 American Community Survey 1-Year Estimates." American FactFinder - Results: Households and Families, U.S. Census Bureau, 5 Oct. 2010.
2Making Room: Housing for a Changing America, AARP and the National Building Museum, 1 Mar. 2018, pp. 8-9.
3 Goodman, Laurie, et al. "Manufactured Homes Could Ease the Affordable Housing Crisis." Urban Wire: Housing and Housing Finance, Urban Institute, 29 Jan. 2018, does not include price of land.
4 Trachtenberg, Alex, et al. The Impact of Green Affordable Housing. Southface and Virginia Center for Housing Research, 2016, p. iii.
5 Karlamangla, Soumya. "L.A., Long Beach given Bloomberg Grants to Build Innovation Teams." Los Angeles Times, 15 Dec. 2014.
6 Auxier, Richard, et al. "Tax Incentives for Economic Development."Tax Policy Center Briefing Book. Urban Institute and Brookings Institution, 2018.